We all have basic needs for food, water, and shelter. These must be satisfied at certain times of day and are usually both predictable and obvious. Can this idea be translated to the needs of patients?
After reading this article from Hubspot's blog, we saw parallels within the eyecare industry. Although optometrists are well equipped to handle the medical and health needs of patients, they might not fully grasp what patients require from the customer service side of the practice. We'll go over how each service need applies to eyecare professionals.
Seeing Patients as Customers: What do they need?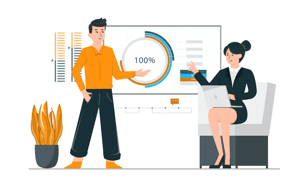 Information
This is probably the most important quality for healthcare services. Patient education videos, flyers, and blogs should be available in the patient portal and on your website as free advice. Also, make sure that you're including relevant eye health information during flu season, allergy season, and summertime (sunglasses for cataract prevention). Your patients will appreciate that you're delivering them information they wouldn't see otherwise, rather than just trying to sell them on new products.
Empathy
Put your empathetic foot forward when addressing or explaining processes to patients. Try to understand their needs and meet them where they are when it comes to patient forms, digital communication, diagnoses, and payment time. Putting yourself in the shoes of your customers can only help build trust and sales.
Fairness
Sometimes you can offer great customer service and patient care, but patients just might not return because they don't feel your prices or policies are fair. Be sure to clearly explain your late or no-show fees, return policies, and prices for dispensary items. Conduct market research to make sure you're not overcharging for your area as well.
Transparency
When you make changes in your practice, be sure to inform your patients. This could be price increases, new team members, new technology or medical devices, and industry changes that affect patients. Keep them updated with emails, texts, or flyers. Especially if the change might cause a stir, it's better to address concerns head-on rather than let online reviews control the narrative.
Control
Patients don't want to feel trapped into a purchase. Make sure they have the ability to cancel appointments within reason, return faulty products, and lay out their exam options and insurance copays ahead of time. Also, make sure you're offering a patient portal that includes all the information they need to make informed decisions about their eye health.
Options
Of course having options applies to stocking your dispensary with a variety of frame styles, sunglasses, blue-light lenses, and trials CL brands. However, it also extends to allowing patients the option of a telehealth visit, special appointment types for follow-ups, and even a walk-up window for order pickups.
Accessibility
Finally, make sure you have systems in place to make your practice ADA-friendly and your website easy to use for anyone. Conduct an accessibility audit for your website and practice, either with an expert or just through some online research. Then, make the necessary changes to make sure you're not excluding potential patients from enjoying your services.
---
Profit building starts with your business model. Examine your business with this free ebook.