Requesting feedback is great for optimizing your products, customer service, patient care, and schedules. However, it's nerve-wracking to leave yourself open and vulnerable to criticism and dissatisfied patients.
Most practices conduct at least a few surveys every year to solicit this feedback, which is useful because these responses are usually anonymous and private. It's especially difficult or tricky to address customers when they leave online reviews or talk to your team in person when they're frustrated with their experience.
That's why we want to encourage practices to take extra measures to address common sources of dissatisfied patients before they come to a head. Keep reading to find out how you can protect your practice today.
Addressing Common Causes of Dissatisfaction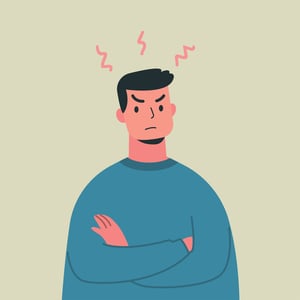 We're referencing this Hubspot article listing the causes of general customer dissatisfaction in all industries. We'll see how they can translate to eyecare specifically.
Issues with Quality
Quality can refer to frames that don't fit correctly, easily scratched lenses, or the durability of anything else they purchase in your dispensary. Many times, a quality complaint might be a manufacturing error that can easily be fixed, so it's important to follow up with your patients to ask them if they're satisfied. If you do have a quick solution, they'll be grateful that you requested the feedback and valued their comfort.
Issues with Pricing


We've discussed how to prove the value of your products and justify your pricing with
a few infographics
and tips
in these articles
. Definitely pre-emptively including pamphlets or explanations in your optician's messaging helps the patient feel like they know what they're paying for. However, if you're receiving quite a few complaints about certain frame ranges or brands, it might be time to reconsider your pricing model or inventory for them.
Failure to Meet Specific Expectations


If you have practice policies and procedures, be sure to stay true to them with every patient. Creating strict return or late policies is great when they're actively enforced so that every patient benefits from a speedy appointment. If you sell your products online, be sure to not over-editorialize your product descriptions and provide accurate photos.

Failure to Meet Perceived or Implied Expectations


We see this most applying to payment. Paying for healthcare services can be confusing at the best of times, so try to make sure payment expectations are made clear before your patient's exam begins.
Pull benefits prior to the exam
to make sure the patient is correctly insured in your networks, check coverage options, and confirm estimated co-pays for a comprehensive exam. Your patient will be glad and you'll be setting realistic expectations.

Issues with Usability


Usually this applies to bad user experience for apps and tech products, but the same can apply to your medical devices, patient portal, and other technology you use in your practice. If you have patients that consistently complain about outdated pretesting equipment, it might be time to upgrade to modern devices. If your patients miss appointments or forget their prescriptions, you should use an EHR and PM system that accurately sends reminders and contains the information they need to avoid unnecessary repeat visits to the practice.

Problems with Customer Service


Finally, the most common reason patients might be dissatisfied is based on how friendly, helpful, and knowledgeable your team is. Especially during stressful or busy moments in the practice, it can be difficult to keep up the quality of service, attention, and care for each patient. However, sometimes it's as simple as listening to
patients' complaints
, thinking about the solution for a moment, and then responding with empathy.
---
The patient experience begins with an effective patient portal. Take a look at this video to see what we mean.