Stock photos are all over the Internet these days. They are typically overly generic and a complete misrepresentation of what the image is trying to portray. And if we are being totally honest, we are just as guilty as the next person when it comes to using stock photos.
We thought that it would be entertaining to see what types of stock photos come up first when we type in some common terms about being an Optometrist and life in your practice. It will probably give you a good laugh about what stock photos portray an eyecare practice as. You be the judge. Are these photos a good representation of your practice?
Stock Photos Explain What Life is Like in an Eyecare Practice
Keywords: eyecare practice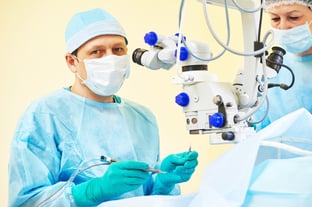 What we can learn: For starters, this image looks more likely to be someone in a medical practice performing surgery. Images like this could be giving your patients false ideas of what it's like going to the eye doctor, and could make them nervous or scared to schedule an appointment. A good way to combat this idea or stereotype is to include a real picture of your practice and your staff on your practice website so that your patients have more realistic expectations for visiting your eyecare practice.
Keywords: patient check in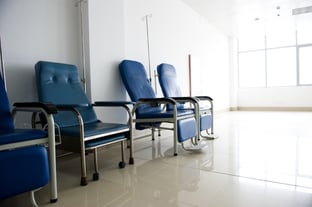 What we can learn: This is one of the most intimidating waiting rooms that probably exists. It's completely empty of patients, and looks like an uncomfortable place to wait for an appointment that you might already be nervous about. We hope your waiting area looks a little more inviting than this. Take a look at this resource for making sure that your practice is looking the way it should.
Keywords: optical exam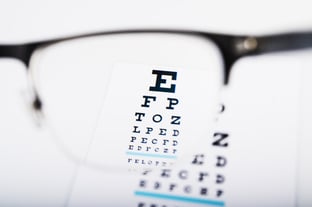 What we can learn: While the Snellen Eye Chart is probably the most recognizable part of an eye exam, it's definitely not the only eye test you'll be giving your patients. With all of the new technology and advanced testing available today it's easy for your patients to fall behind or be intimidated by your equipment and machines. Walking your patients through the exam and explaining what each test does and why it is important will help build the trust and loyalty that you're looking for with your patients.
Keywords: buying eyeglasses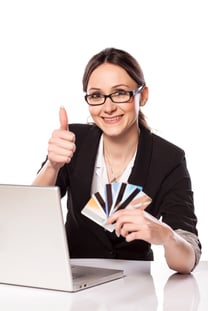 What we can learn: This stock photo shows a big problem for your eyecare practice. This patient is purchasing her frames online, not from an optician in your dispensary.
With online retailers, it's easy for your practice to quickly become a show room for frames while your patients resort to buying cheaper styles online. Make sure that you're educating your patients on the value they get from purchasing frames in your dispensary.
Keywords: electronic health record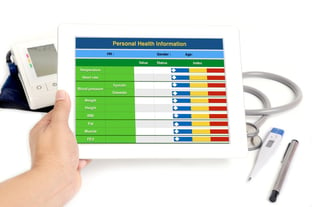 What we can learn: Electronic health records are an important part of keeping your practice modern and up to date. Patients want to have access to their health information at the click of a button, and if you aren't using electronic healh records in your practice you're falling behind on this patient need.
There are some EHRs that let you access your system and patient data from a tablet which increases mobility even more for you and your patients.
Keywords: cloud computing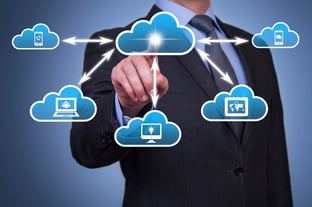 What we can learn: It's no wonder people find "the cloud" to be a confusing topic. With photos like these it leaves a lot of room for questions. As a cloud software provider we have a lot of resources to better help you understand the cloud and the benefits that it could have for your practice.
Want to stay up to date on our latest posts? Follow us on Facebook!