Combatting and predicting lulls in patient flow into your practice will be more difficult moving forward, so that's why we suggest you have special marketing event ideas ready. Depending on what you're allowed or able to do, these events can bring your patients into your practice or just delight them if they were already showing up for their exam. Some of them can even provide good social media content, something that many ODs have said they struggle with.
We handled the brainstorming for you below with a few event ideas to carry you through until spring. Hopefully you implement these soon or they help you think of ideas more specific to your patient base.
Winter Events and Themes for Your Eyecare Practice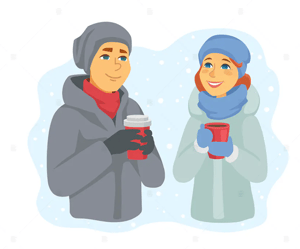 Hot Drinks of the World
Especially if you live in a dark, cold climate, your patients are probably spending the first few minutes of their appointments trying to warm up. There are plenty of warm beverages around the world that you can serve (safely) from a crock pot and Styrofoam cups. You can change the theme each week to explore a different part of the world through the end of winter. A few ideas are wassail (hot apple cider) from England, anjismelk (aniseed milk) from Holland, Moroccan mint tea, masala chai, and classic hot chocolate. A few more ideas can be found in this article. If any of the drinks are good for eye health, you can include a description and history as well.
Throwback
Recalling trends of the past is a favorite past time for most of us. Throwing a "throwback" event can mean showcasing popular glasses frame styles from decades or even centuries past, depending on what you can get your hands on. If you're feeling bold, you can have different Thursday discounts each month where certain frames that fall under that decade are 5% off or buy-one get-one half off.
For practices that are longstanding in their community, you could print out photos of your practice over the years to show how the design has changed and encourage patients who might have stuck with you for years to send pictures of themselves from those respective years to display on your wall. Whichever throwback idea you choose to do, make sure it's easy for patients to participate or enjoy and share as much of it as you can on social media with the hashtag #throwbackthursday.
Valentine's Day
We all know that Valentine's day is a big gifting holiday. Although, usually people don't receive a pair of frames or contact lenses as their Valentine's day gift. If you want to play up the theme of the holiday without focusing on relationships, you can create packages with products that help you "Love Your Eyes". This could include lubrication drops, microfiber cloths, contacts cases, and some chocolate for good measure. Of course, make sure that buying this package would actually be a better deal that buying the individual items.
If you're pressed for time, you can decorate your practice with red & pink crushed velvet pillows, a few vases of fake roses, and play some sentimental old crooners like Etta James and Glenn Miller over your speakers. Evoking emotion is underrated in eyecare practices, but it always makes you memorable.