The end of the year can be a very busy time for your eyecare practice. Children and college-aged students usually have time off from school to book appointments, and parents are figuring out how to get the most out of their insurance and flex plan spending. If you really want to jumpstart your end of year sales, you should be utilizing automated patient recall to remind your patients to use up those flex dollars before it is too late.
If you don't have an automated patient recall software in your practice, there are other ways that you can promote end of year flex spending to your patients. Take a look at these 15 examples of flex benefits advertising that you can implement in your office. And keep reading to see how to deliver the right message.
Creating the Perfect Patient Recall to Bring in Your Flex Spending Patients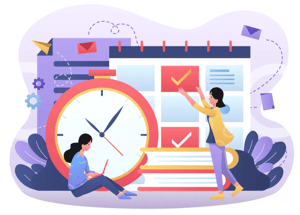 Patient recall systems allow your practice to send auto generated recalls and reminders based on customized settings. These reminders can be sent through a variety of channels including email, text, phone, or direct mail - all depending on the recall system you use and preferences you have for distribution. On top of just sending messages, it can allow you and your patients to schedule efficiently, receive survey feedback, manage your web reputation, and track your recall results.
The Message
When it comes to patient recall, if you're crafting an email or some type of direct mailer, it's important to get to the point quickly. Don't go crazy and overcrowd the message with too many images, colors, or words. You don't have much time to capture the attention of your readers so make sure that the message you want to get across, in this case some type of "Use It or Lose It" messaging, it obvious. You don't want your patients working too hard to try and understand what you're asking from them.
The Action
The whole point of sending out these recalls is to get more patients into your practice, and to ultimately make more money. If you're asking your patients to spend their flex dollars at your practice, make sure that you leave them with the information to do so. If you want them to schedule an appointment online, give them the link. If you want them to call your practice, give them the phone number. If you want them to view your inventory of frames, send them to your website. Whatever it is that you'd like them to do, make sure that you give the right instructions for how to do it.
The Brand
When crafting the right recall message it can be easy to leave your brand in the dust. But, almost just as important as the message you are relaying is just the reminder that your practice is thinking about your patients. You want your brand to be memorable so that when your patients see your brand in other places like the local paper, social media, or as a sponsor at a local event they are quickly able to recognize and remember your brand and logo as a representation of your practice. So don't send out messages that are missing things like your logo, along with consistent brand colors and fonts. Maybe you even want to include a photo of the OD or a group shot of your staff. All of these little things will help your patients remember your brand in the future even if they don't take the action you're hoping for from the recall message.
---
The patient recall within Uprise includes everything you need without additional cost. Check out the patient portal below.
Originally published in November 2015