There is a new type of consumer that exists in today's e-commerce era. As more and more online retail stores are taking over the Internet, brick and mortar stores are turning into "showrooms." In other words, a consumer is more likely to come into a store, window shop through products, and go home to buy the same product online for a cheaper cost. The brick and mortar store ultimately becomes a 'showroom' for online retailers.
Showrooming is based upon two premises 1.) The online product is cheaper 2.) Lower prices alone are the only reason people buy. A recent study says that consumers think brick and mortar stores will become showrooms by year 2020 (Source). In fact, by 2016 it is predicted that more than 1/2 of retail sales will be influenced by the web.
In order to get your foot in the door to prevent your practice from entirely turning into a showroom, we've pulled tips for ECPs from the Optical Vision Site's blog to show you how you can fight showrooming. These tips might come in handy to help you with shopping decisions at the upcoming Vision Expo East tradeshow!
10 Tips for ECPs to Fight Showrooming
1. Don't Overprice Your Product. The consumer can spot a crazy mark-up, and you do not want them telling all of their friends how over-priced you are. A good rule of thumb is to price your products appropriately at keystone or a little above keystone. And if you would like to make more sales, try focusing on second pair sales, add-ons, and accessories.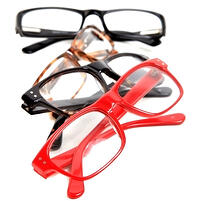 2. Carry a Good Variety. Evaluate what products are heavily discounted online. Are they the exact same as your products? What's different about the online product and your in-store product? Many times similar items are available online for a significantly lower price, but it is hard to tell whether this item holds the same, or better quality of the one in-store. And while you may carry that product, carrying a variety of colors can encourage in-store buyers. You should also consider private labels that other places do not carry.
3. Merchandise. Merchandise. Merchandise. E-commerce may be ahead of the game when it comes to assessing consumer buying behavior and increasing sales, but one concept it will continue to lack is retail merchandising. Merchandising cannot be duplicated via an iPhone. Set up a merchandising calendar, hire a merchandiser to do your windows and displays, and entice those patients!
4. Provide High Quality Customer Service: At the end of the day, your practice is to society what the customers say about it. From the moment a customer enters into your practice till the point they walk out, you should be assessing their needs and going beyond just helping them find a product. Building a personal connection makes an impact on every consumer. The more interaction you have with your customer, the more likely he or she is to come back to your eye care practice. Cheap but practical giveaways also go a long way!
5. Send Texts/E-Mail Notifications: It's important to keep customer interaction going through texting or emailing customers coupons, discounts, and products that are relevant to their purchase history.
6. Trained Employees: Your employees should know beyond online retailing. They should know the different types of customers of your practice, what entices them, what causes them to buy a product, etc. Send your employers to trade-shows or have an in-office training program.
7. Beef up your website NOW: Websites should be mobile friendly and SEO optimized. Using local SEO, store locators, Google maps and Google locator, your website has a higher likelihood to being found.
8. Coupons: It's understandable when practices don't believe in discounts. But unfortunately the market for people who do not want to pay full price is huge! If you are open to the idea, try Google Shopping's paid ads to provide a link for downloading coupons. RetailMeNot has a new app for iPhones with money-saving features designed to help retailers keep consumers in stores with discounts.
9. Market to Buy Local- Consumers may not realize how much they are hurting their community by buying online. Practice what you preach, buy local yourself and support the community and make sure you let your suppliers and patients know about this.
10. Track your Sales – Track your sales metrics. Using your webserver or Google analytics, you can track hits, ad campaigns, top pages and more!
What are you doing to combat showrooming in your eyecare practice?