Every eyecare practice is looking for ways to promote their practice and stand out from the competition. Holding a trunk show is one creative way to help reach new goals in your practice. But be wary, a successful event is going to require a lot of planning and effort. It's not as simple as slapping up a flyer in your practice in hopes that will draw enough attention to the event.
Labeling your event as a trunk show might not be the best way to resonate with your client base either. Think about a theme for your event and a creative title that might lure in attendees. Something like, Fall Eyewear Fashion Show and Sale is likely going to catch more attention than an event called, Dr. Smith's Trunk Show.
There is a lot to think about when planning any event. And, if you aren't a seasoned event planner, it can be easy to overlook some details. While there isn't a tried and true formula for success, we've got some steps for you to take to ensure trunk show success at your next event.

The Key to a Successful Trunk Show
Put a Plan in Place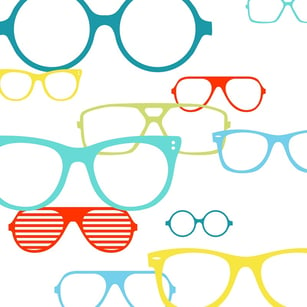 Making a detailed plan of attack is such an important step to ensure success. There are a lot of details that will need to be considered in order to make the best plan. When sitting down with your staff to come up with an event plan here are some big picture ideas to think about first.
Date and Time for Event. Pick a date at least 3 months away from your initial planning session so that you have plenty of time for making arrangements and spreading the word. Does the date conflict with any other big events or holidays in the community?
Show Theme. As we mentioned earlier, to just hold a "trunk show" isn't very meaningful to your patients. Pick a theme for your event so that you can decorate and create promotions that are fun, consistent, and attention grabbing.
Make Goals. What is the main reason for holding the event? What will you measure at the end to determine if the event was a success?
Choose Your Products. What products are you going to be promoting at the event? Do you have a new frame line in mind, or do you plan on bringing in a couple of different reps for the show?
Roles and Processes. You'll need to make sure that your staff is all hands on deck and that all processes are put in place to ensure a smooth show.
Focus on Promotions
When it comes to promoting your event you have a lot of options. Once you have your plan in place you'll have a date and theme picked out so that you can start using consistent messaging for the event across all channels. Before you start putting together your marketing materials for the event you should decide what promotions and giveaways you'll be offering.
Whether you're offering a discount on frames, or something like 50% off your lens purchase with the purchase of a full price frame, you should discuss with your sales rep and your lab to see how you can all work together to get the best deal for everyone. Once you have your discounts decided and your giveaways lined up you can use those incentives in your messaging.
If your goal is to generate new leads and customers in your office, you could consider co-hosting the event with another local business. A lot of trunk show type events are focused more on women, so you could combine the event with a local Mary Kay rep, Thirty-One rep, or another women focused product or business. That way you are both benefiting from each other's client base.
Channels of promotion to consider for your show:
Personal, hand written invites
Flyers to put up in local businesses
Radio ads
Local newspaper (press release and ad space)
Email invites
Postcard handouts for in-office patients
Facebook advertising (images, event page, etc.)
Word of mouth
Working with Your Sales Rep
Your sales rep has most likely been to their fair share of trunk shows, so pick their brains for ideas that they have seen at successful shows. On top of ideas, your vendor is likely going to be able to help supply you with event giveaways and door prizes. Your sales rep will also be able to help train and educate your staff on the products so that everyone is on the same page the day of the event.
Week of the Event
Do a deep clean of your practice before setting up for the event. You want your practice to shine, so make sure that everything is visually pleasing and then get your decorations and stations set up. Offering food and drinks is a great way to get people in the door, so make sure your snacks and beverages are ready to go.
Don't forget to have fun! A happy and positive team of workers will help the party maintain a great atmosphere throughout the day.
After the Show
Once the show is wrapped up, your work isn't over. Keep sharing photos of the event on social media to create some buzz and awareness for those who weren't able to attend. Schedule a debrief meeting with your team to go over what went well and what could be improved upon before your next event. Prepare thank you cards for those who made purchases or showed up to the event; a little personal thank you note can go a long way.
Last but not least, evaluate your goals. Did you hit the numbers that you were hoping to? Making sure that you get the results you were hoping for will help you plan and create your next event to be even better!
Subscribe to our blog for real-time updates on running and growing a modern practice.
Editor's Note: This post was originally published on October 20, 2015. It has been updated for relevance and richness of content on March 19, 2019.