With event cancellations due to the spreading of COVID-19, optometrists need to look for alternative ways to fulfill their continuing education credits. Online education is a safe and convenient option, but you'll want to make sure the subject matter is relevant to you.
VisionWeb is sponsoring three COPE-approved courses this coming Saturday that we think will help ODs fill in gaps in their practice, especially during these uncertain times. From claim filing to virtual care, these instructors use their personal experience and years of expertise to help guide you through the obstacles you might be facing.
Keep reading to register now.
3-Course Online Optometry Classroom Free CE Event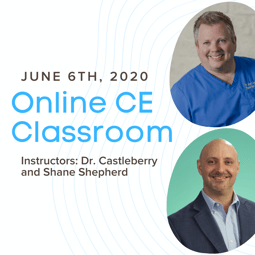 In the 3 COPE-certified courses, Dr. Kim Castleberry and Shane Shepherd will share insights and expertise into various aspects of the eyecare practice including a focus on providing virtual care and best practices for claim filing and billing in an eyecare practice. All three courses will be offered virtually on Saturday, June 6, 2020.
COPE-certified courses in the Online Optometry Classroom include:
Virtual Care During COVID-19 and Beyond, Instructed by Dr. Kim Castleberry

Turning Denials to Dollars, Instructed by Shane Shepherd

Building a High-Speed Insurance Engine for Your Practice, Instructed by Shane Shepherd
You can register for each of the courses individually:
Register: Virtual Care During COVID-19 and Beyond
Register: Turning Denials to Dollars
Register: Building a High Speed Insurance Engine