Consumers lead busy lives with many options and value convenience. Due to this, not only do eyecare practices often lose frame sales to online retailers, but they can also lose patients to competing practices. One way you can meet your patient's expectations is to use 2-way texting for communication around appointment reminders, education, and more.
Our friends at EyeCare Prime see how patient chat helps improve patient relationships everyday. Here are their top 6 reasons you need patient chat in your optometry practice.
Why You Should Chat with Your Optometry Patients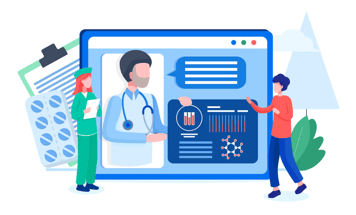 1. It's the preferred method of communication for many patients.
Six billion SMS (short message service) messages are sent every day in the United States, according to Forrester Research, and over 2.2 trillion are sent a year. Messaging is the new channel of choice, according to Twilio research, which states 89% of consumers want to use messaging to communicate with a business.
2. It's less intrusive than a phone call.
Nielsen research shows that Americans text at least twice as much as they call, on average. It's easy for people to glance at a new message while in a meeting or spending time with their families, when a phone call would normally be ignored.
3. It's more immediate than an email.
Do you want your patients to show up on time for their appointment or just when they get around to it? That can be the difference between sending a text message vs an email. In fact, according to Mobile Marketing Watch, text messages have a 98% open rate, while email has only a 22% open rate. Text messages rarely go unnoticed or unanswered and are the ideal medium for reaching patients in a timely manner.
4. It's a better customer experience.
Forrester Research indicates that 77% of customers say that valuing their time is the most important thing a company can do to provide them with good service. Rather than call in and be put on hold if a staff member is with a patient, patients could just text in their inquiry and go about their day. With more patient conversations happening over chat, it also frees up the phone for tasks that really need that live call.
5. It makes you stand out.
A common theme among new competitors arising in the market is their use of digital technology to transform an entire industry (think Amazon, Uber, and Airbnb). The optometry industry is seeing its own slew of startup disrupters and independent practitioners need to pivot quickly in order to adapt to new consumer expectations. Eyecare practices that can meet these new expectations stand out from the pack and make patients happy. Happy patients are more likely to leave good reviews and spread the word to their family & friends.
6. It adds a personal touch
Patient chat can supplement an automated messaging system by allowing you to have 1 on 1 conversation. If your practice is using something like Prime Nexus for automated appointment reminders and other notices, doesn't it make sense to allow patients to reply directly to that reminder? It's also the best venue for emojis, which can sometimes increase open rates.

Did you know that Uprise EHR & PM integrates with EyeCare Prime's patient
communication tool, Prime Nexus?
You can see them in action by clicking here.