Just about every business goes through a slow month or two every year. It's likely in your eyecare practice that slow month falls around the same time each year. So how can you proactively prepare for your next slow month?
Planning a trunk show in your office is a great way to boost business. You'll basically be throwing a big party in your practice, and who doesn't like a good party? One of the most important things to consider at the start is why you're having the trunk show, and what you hope to accomplish. It could also be beneficial to stop calling it a trunk show on your invites and promotions. The phrase "trunk show" doesn't hold a lot of meaning with your patients, so get creative and call it something else like a "frame fashion show" for example.
7 Optical Dispensing Tips for Boosting a Slow Month with a Frame Fashion Show
Food and Drink - Everyone loves free food and drinks. This
will keep people lingering throughout your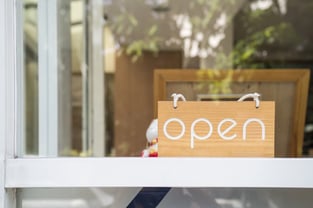 dispensary for a longer amount of time. It could help to pick a trendy or hot local food or bakery spot to draw in a larger crowd.
Social Media Marketing - Social media marketing is a great way to share the news about your event, before and after. Take pictures during your event so you can show off afterwards how successful it was. Tag other local businesses who can share the event with their followers as well.
Call Your VIPs - If you know who your top patients and attendees will be for the event, go out of your way to give them a personal reminder of the event.
Collaborate with Labs and Vendors - The more successful the show is for you, the more successful it will be for the labs and vendors that you're working with. They will likely be more than open to help offer discounts and provide giveaways for the event.
Market with Other Local Businesses - Local businesses love supporting each other. Whether they are able to provide a free giveaway for your event, or let you leave postcards promoting the event at their front desk it's always a good idea to network with other local businesses.
Make it a Tradition - Holding the event at the same time every year will help your patients build a routine of coming to the event. Hopefully it will get a little bigger each year and you'll be able to offer bigger and better discounts and giveaways.
Be Interactive - Keeping your patients engaged during the event will help keep their interest. You could provide games that offer additional discounts on their purchases. Things like popping a balloon to find out your discount are great ways to keep everyone involved and excited.