Running a successful optometric practice requires a wealth of knowledge. While years of hard work and quality education prepares ODs to care for the ocular health of their community and patients, many practice owners were never taught how to run a business effectively.
While there are business lessons that can be learned in a classroom, many business lessons can only be learned by first hand experience or from a mentor whose guidance can help budding ODs prepare for practice success.
Although many online communities bring ODs and eyecare professionals of varying experiences together, many ODs who need help may not know what questions to ask or what they need help with. That's why we created this eBook.

eBook: Insider Secrets for Running Your Optometric Practice Like a Business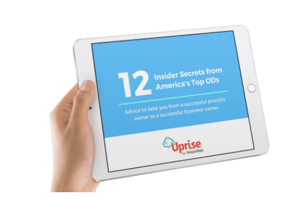 In our eBook, 12 Insider Secrets from America's Top ODs, we interviewed some of the optometric industry's top talent from across the nation to learn how they were able to successfully build a prosperous practice without affecting the quality of patient care. We wanted this to act as a guide for ODs embarking on new ventures and recent graduates.
Download this eBook, to gain advice from industry peers on:
Practice growth hacking techniques
Managing industry changes
Leveraging technology
Tips for new grads
Building and maintaining a strong team
Becoming an industry leader
And so much more
Get your copy today to learn from some of America's top ODs.
Editor's Note: This post was originally published on July 2017. It has been updated for relevance and richness of content on December 2019.