We understand that planning out your day or week can be tough when you don't know the timeline for reopening your practice and accepting patients at full capacity. So far in our remote work series, we've given you ideas for updating your tools, implementing telehealth, and building out your marketing personas.
But now we want to help fill your schedule on the days where you aren't sure how best to use your time or your staff's time. We have a few ideas for how you can continue to work on your business without conducting routine eye exams. Keep reading for some inspiration and guidance.
Close Business Gaps and Set Your Practice Up for Success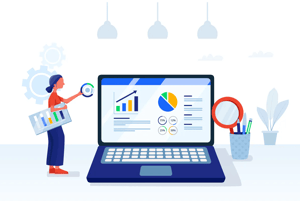 Business Gap Analysis
Evaluate the success of your practice from 2019 to see where you might have been missing out on revenue. Track how much time it takes to accomplish each step of your workflow, which areas seem to take longer than you'd like, and discuss methods of improving these with your team. You can even do this part of business analysis from home. While you're all working remotely, hop on a video conference call and go through an exam verbally. Allow for your staff to speak up about inefficiencies they notice.
Marketing Campaigns
In addition to conducting deep analysis on ROI and success (patient conversion) rate of your 2019 campaigns, you can plan new ones for when practices open up. Use the data you gather on best marketing techniques from the results of your past campaigns to inform how you'll market a reopening of your practice to patients. Focus on areas of your local community you might not have marketed to yet, such as which demographic of patient you're missing in your practice that you see in your local area.
Billing Reports
Another large part of your business is your insurance claims. Especially if you don't have an in-house biller or outsourced billing, you'll probably have claims in your backlog that need to be dealt with. Go through unfiled claims, clear your AR, and watch our webinar on top reasons your claims get denied. Set your practice up for financial success while you have time to get into the granular.
Our 5 Year Plan guide will help you look toward the future.