The customer experience in your eye care practice becomes more and more important every day. Sure, good customer service is something patients have always expected, but with the choices and competition facing your eye care practice today the patient experience has become that much more important in order to keep up with other retailers.
This becomes especially true in your optical dispensary. Patients have so many choices when it comes to purchasing their frames, and the buying experience that consumers have come to expect has changed a lot in the recent years. Is your patient experience stuck in the past? Let's find out.
Is Your Practice's Eye Care Practice Customer Service Stuck in The Past?
You don't have a budget for customer service needs.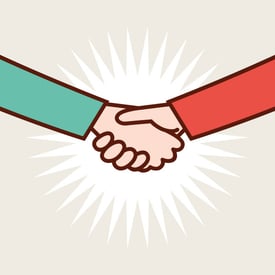 We know that many independent practices are already working with a limited budget when it comes to things like marketing or customer service. In fact, many practices probably don't have a budget set aside for customer service needs. But now that the patient experience in your practice plays a bigger role than ever before, allocating some of your budget here should be a consideration.
A few ways your practice can spend some money to improve the patient experience could be on things like:
Optimizing your website for mobile devices so patients can more easily access information about your practice on their phones.
Goodie bags for purchases made in your dispensary.
New dispensary decor (mirrors, lighting, frame displays).
Beverages offered while shopping in the dispensary.
You're missing customer facing technology.
More and more of your patients each day are people who grew up in a digital world, and in most cases, they are expecting the companies they do business with to be at the forefront of digital technology. When it comes to modern customer facing technology in your eye care practice, things like communicating with your patients via their preferred method, like email or text, is a good start. The way you send appointment reminders and messaging to patients when they are out of the office can have an effect on their overall experience.
Do you have technology in your dispensary that makes the frame buying process easier? Do you use any digital tools to help you fit glasses for your patients, or that allows them to digitally try on frames you might not have on hand in your shop?
Your patients don't get a personal experience.
Millennials crave a personalized shopping experience. They also look for businesses that share their same values and support important causes that they care about. If your practice supports any charities or local organizations make sure that it is prominantly shown in your practice and on your website. Or, certain months of the year you could donate a percentage of all purchases to a specific cause.
On top of supporting charities, how can you make each patient visit more personal? Your retail environment needs to be unique, inviting, and modern giving patients a reason to want to spend time there. What stores do you enjoy spending most of your time in? Why? Implement these ideas outside of healthcare to help give patients a one of a kind experience in your dispensary.
You're not spending enough time online.
These days, customer service extends outside of your practice walls and online. People will take to the Internet to learn more information about your practice and even to ask you questions. If you aren't spending time online you're missing out on these valuable patient interactions. Whether it's responding to online inquiries or managing your online reputation, having a person in your practice managing this aspect of your practice is important.
If your patient experience is already in tip-top shape, use this guide to increase sales in your dispensary.