Over the years, we've worked hard to provide a variety of useful resources for everyone in your eyecare practice to take advantage of and learn something new from.
Today, we are focusing on our optician readers. We hope you didn't miss any of our most helpful optical-related articles from, but in case you did we put together a quick recap of our most loved and shared information. Read up and see what you missed:
Don't Miss Our Best Optician Tools
5 Retail Trends Every Eyecare Practice Should Know About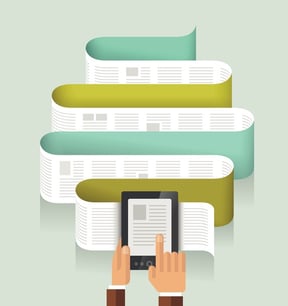 Retail shopping trends are important for opticians to pay attention to as they buy, merchandise, organize, promote, and sell frames in your practice. If you're suffering from low sales in your dispensary, looking back on some of these retail trends can help you generate new ideas that could resonate with your patients. And, especially with high competition from online retailers, having a unique dispensary and enticing promotions will help boost your sales and revenue numbers.
How to Stand Firm on Your Contact Lens Evaluation Fee
Another helpful article for opticians (and probably everyone in your office) is this resource on defending your contact lens evaluation fee to patients. Nearly every day someone in your practice is going to receive a complaint about the price of something. And, most commonly this can be confusion about the contact lens exam fee. We've come up with 4 different tips and strategies to help educate your patients on the costs they are paying for the contact lens services provided.
6 Reasons Opticians Love Uprise
As an optician, you're the final person that a patient usually interacts with in the practice. When patients get handed off to you, it's important that you have the tools and resources available to make their time in the dispensary go by quickly and enjoyably. Effective and intuitive software is key for opticians. We uncover the features of an EHR and PM system that opticians appreciate the most.
2 Simple Sales Strategies to Boost Revenue
Making an extra sale in the dispensary is often easier said than done. Whether you're trying to upsell or add on a second pair there are different strategies that could work better on certain patients. Check out these two tips that could have a big impact on your revenue numbers.
How to Run an Eco Friendly Eyecare Practice
Especially in the current climate, eco-friendly brands and products go a long way with certain customers. There are many swaps an optician can make to reduce waste in the practice. Not only will it help showcase the priorities of your practice, but it will actually probably drive down costs as well.
Schooling Patients on the Costs of Their Lenses
As we said before, almost every day you're going to hear a complaint about high costs. And, with the cheap prices many consumers can find from online frame retailers you're definitely going to get this argument on frames in your dispensary. Sometimes a good visual is one of the easiest ways to educate patients or help them justify the money that they are spending on eyewear. We've put together an idea for an infographic you can use in your practice that shows the average monthly cost of eyewear compared to other common expenses.
Don't miss out on our top posts. Subscribe to the blog today.
Originally published in January 2017