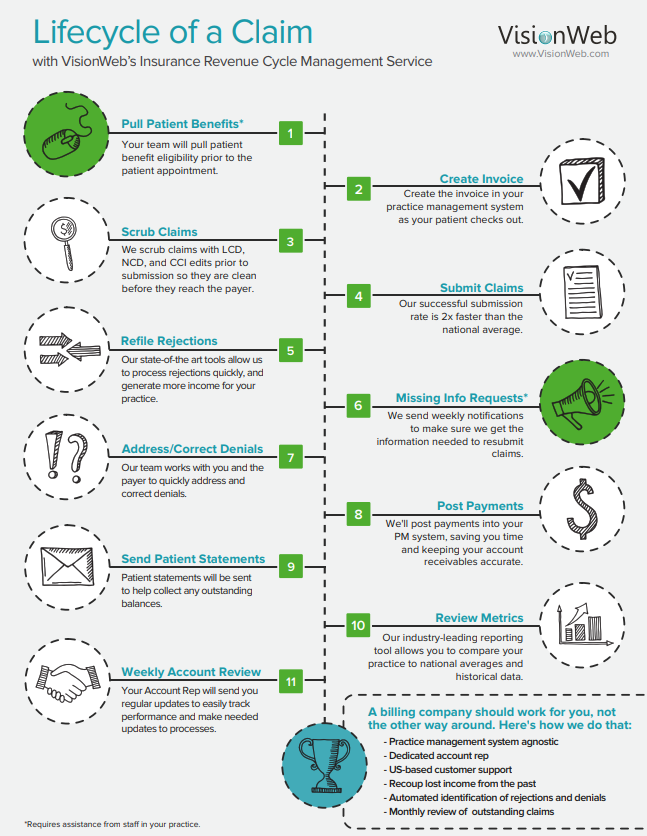 The claims management lifecycle is a complex and detailed process. While electronic claims have reduced phone calls with payers, minimized duplicated data entry, and decreased reimbursement times, they have increased the scale of the insurance claims your biller has to create, track, and manage throughout the lifecycle.
Now, if you or your biller are submitting a batch of claims every week while trying to keep up with other claims already in the lifecycle, then you might be risking reports slipping through the cracks and rejected claims piling up before you even get a chance to correct them.
The Insurance Revenue Cycle Management service from VisionWeb offers vision and medical billing services to take the more painstaking, detail-heavy parts of the optometric billing cycle off your practice's hands. All you and your staff have to worry about is checking the patient's benefits eligibility and creating the batch of claims. Then we take over to keep your claims moving forward so you can focus more on patient satisfaction.
Follow this infographic to see how VisionWeb's Insurance Revenue Cycle Management Service works the billing cycle for you to simplify your claims lifecycle.
Read More